Went into town on saturday, and I really enjoyed my morning wandering around. Sheffield is an excellent place. Went to the urban deli for a bit to write and drink, and I got a text from
phil
asking if i was going to the chesterfield match. I didn't realise we were playing at home, and i had my mind set on a relaxing day, so decided not to go. After the abysmal performance i'd witnessed on wednesday it was not a difficult decision to make. Next it was time for a trip to fopp, always a dangerous shop for me as i always buy more than i bargained for. They didn't have the limited edition arcade fire album, but i did come away with 2 cds (anthony and the johnsons and low) and 'children of men' novel. Had to go to a bigger store for the arcade fire album, more on that later. Wandered down to the
crucible
to pick up a ticket for 'the cherry orchid' and noticed that the lyceum is showing 'the alchemist' which i read recently, so i got a ticket for that too. Feeling rather cultured with my theatre tickets, i decided to wander up to the millenium gallery where they had a free abstract exhibition on. There were some striking pieces, but one particularly caught my attention. Maya Roos had created a giant 'portrait' of coloured lines and boxes influenced by an image captured from norton disc clen up application. I was amazed that this huge piece seemed to be painted directly on to the wall and asking a curator I discovered that it had taken three weeks to paint by a team of three and at the end of the exhibition it would be sanded off and the wall repainted. The transient nature of this work made me admire it more. Got home and saw the football results come in, lamenting a further chesterfield defeat. A managerial change can be the only answer to this dreadful slide towards relegation, the last few games have been void of any ideas and passion. Phil was in agreement, and yesterday Roy graciously stepped down from his managerial role. I'd've preffered to see whole sale changes to the backroom staff instead of promotion of assistant manager, but we'll see if the performances turn.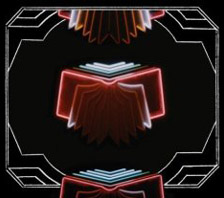 Ok, so the Neon Bible, the second album from
arcade fire
. Sorry if you had to read so far if you were only interested in my review, and if you're not interested then you can stop reading now! Their first album, funeral, was my favourite album of 2005, barely a flaw on it, quite superb, so it's always a slight worry whether a new release would match the standard already set. After a few listens i think it is close to reaching those high standards. The neon bible is distinctly arcade fire, yet different from funeral. Produced like some overwhelming symphony the songs form a score of melancholy of the futility of life, or more accurately those bodies that seek to bring meaning, politics, religion. Yet there is some sense of upbeat within the tunes that make you want to dance too. The layers of instrumentation are really quite superb, without becoming some pompous over produced nonsense, they manage to balance grandiose church organs, harmonic choirs, flowing strings, bombastic brass, with guitars and drums. Some of the church organ sounds are immense, apparently recorded at some church, you can imagine some giant gothic cathedral with a bank of a thousand pipes springing forth from some huge organ. Certainly a top candidate for album of the year. And it's making my dreadful commutes all the more bearable as I blast it out from my iPod.